Upper Manhattan is redefining the Gilded age by adding luxury condominium new developments alongside Landmarks-protected single family mansions and co-ops. The units inside feature expansive floor plans to begin with, but some buyers are opting to combine two units into one massive home with multiple levels of outdoor space.
Below are the architecturally impressive and luxurious new condos on the Upper East Side we have on our Watch List. The top condos are inspired by prewar architecture, if not conversions of prewar buildings, and all feature spectacular views, top-of-the-line appliances and finishes, and easy access to Central Park, Museum Mile, Madison Avenue shopping, fine dining, and top schools.
The Benson: 1045 Madison Avenue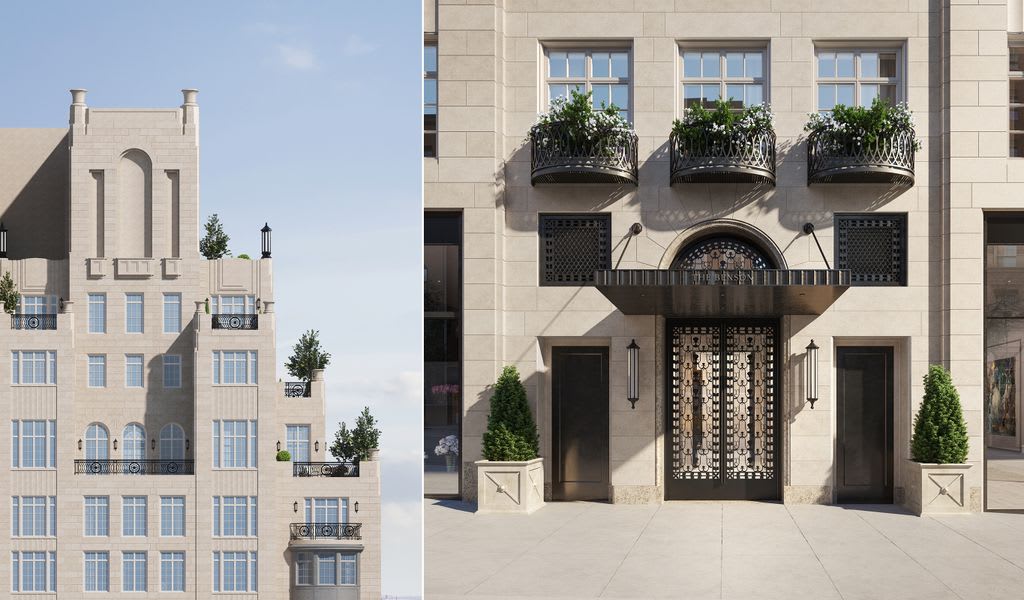 Developed by Naftali Group | Design by Peter Pennoyer Architects
Completion estimated for 2022
It is little wonder that Naftali Group displayed
Jerry Seinfeld
's pro-city op-ed in
The New York Times
on the side of The Benson when it was under construction – they clearly felt optimistic about the return of New York after weeks of top sales and a quick sellout. The Benson's design by Peter Pennoyer Architects pays tribute to the prewar architecture surrounding it with a limestone facade, mullioned windows, and setback terraces. The jewel box lobby and private screening room were designed by Achille Salvagni, and additional amenities include a fitness center, half basketball court, spa with sauna and steam room, library with adjoining garden, pet spa, and landscaped roof terrace with fire pit and Central Park views.
The Wales: 1295 Madison Avenue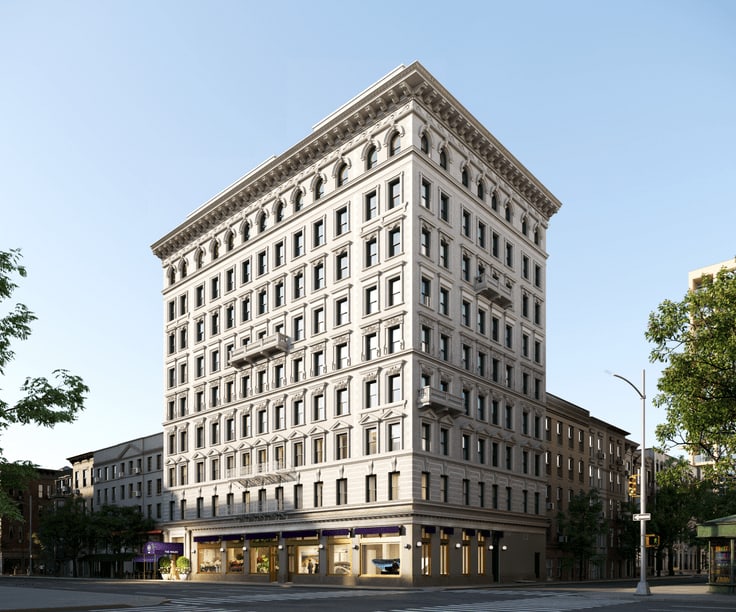 Developed by Adellco | Design by Louis Korn
Completed in 1876 | Conversion estimated for 2022
Much like The Westbury (see below), The Wales is the condo conversion of a prewar hotel. The Landmarks Preservation Commission approved the addition of a discreet penthouse floor, and the ornate Beaux Arts facade is being restored to its original grandeur. All half-floor and full-floor homes feature Central Park exposures and elegant interiors. Amenities will include a redesigned and attended lobby, fitness center with state-of-the-art equipment, pet spa, private storage, and bike storage.
150 E. 78th Street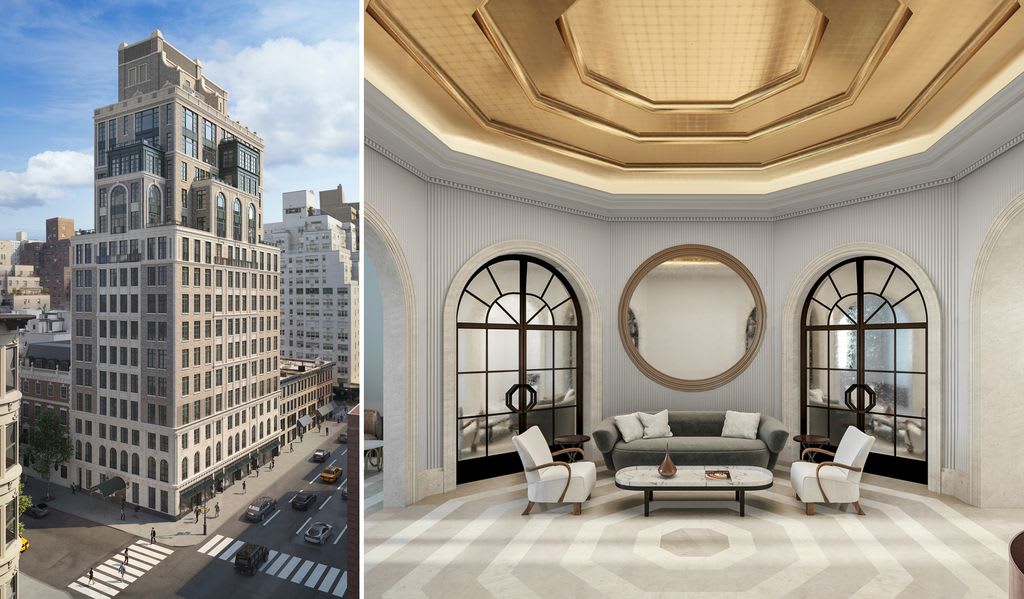 Developed by Midwood Investment & Development and EJS Group |
Design by Robert A.M. Stern Architects
Completed in 2021
With its handset limestone facade, patterned brick, ornamental metalwork, and distinctive crown, 150 East 78th Street's design by Robert A.M. Stern Architects is said to embody New York Classicism. The apartments come in half-floor, full-floor, and duplex configurations, and amenities include 24-hour concierge service, a state-of-the-art fitness center, regulation squash court, golf simulator, parlor with billiards table and catering kitchen, children's playroom, pet spa, bike room, and cold storage.
The Leyton: 1059 Third Avenue
Developed by Real Estate Inverlad Group and Third Palm Capital |
Design by Manuel Glas
Completion estimated for 2022
Just outside the historic districts, The Leyton has made its mark on the Upper East Side skyline with its soaring height and sleek glass and stone facade. The majority of the apartments have private outdoor space, and all feature interiors by Elana Frampton, soaring ceilings, and state-of-the-art infrastructure and appliances. Amenities were designed by Champalimaud and inspired by grande dame boutique hotels; these include a 24th floor Brandy Room with indoor lounge, dining room, and solarium with sun terrace; a sun-drenched fitness studio, a fully equipped pet spa, and concierge service by BHB. Delivery is estimated for early 2022.
200 E. 83rd Street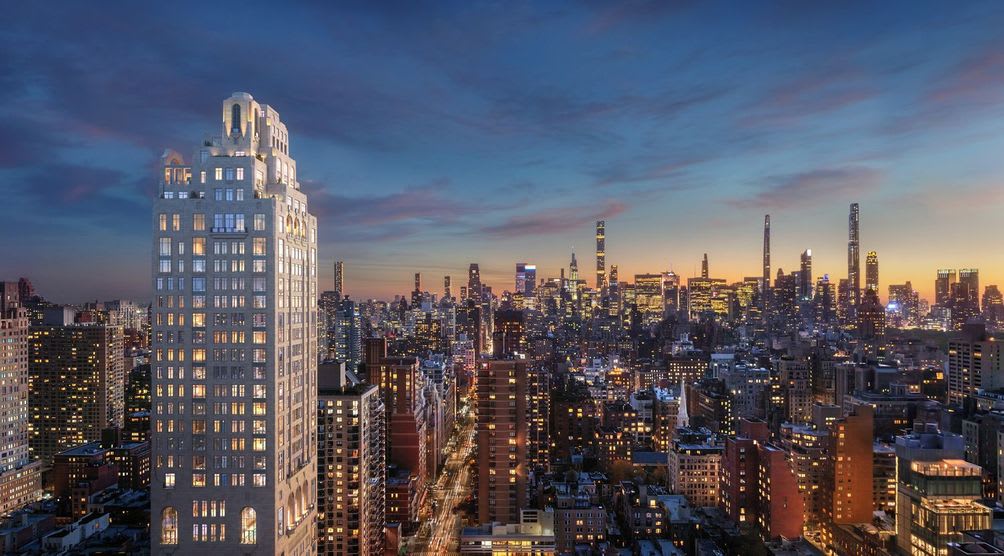 Developed by Naftali Group and Rockefeller Group |
Design by Robert A.M. Stern Architects
Completion estimated for 2022
Another Robert A.M. Stern design, 200 East 83rd Street is distinguished by its soaring height, striking silhouette, and grand arched windows. Upon arrival through a gracious entrance, residents are greeted by a sophisticated lobby with a doorman and concierge. Amenity offerings include a fitness center and yoga studio, 70-foot indoor pool with double-height vaulted ceilings and loggia access, spa with steam room and sauna, wood and leather-paneled library, children's playroom, screening room, Winter Garden with double-height loggia and terrace access, and a vaulted porte-cochere with automated parking and a private courtyard. The first closings are estimated for the second quarter of 2022.
The Bellemont: 1165 Madison Avenue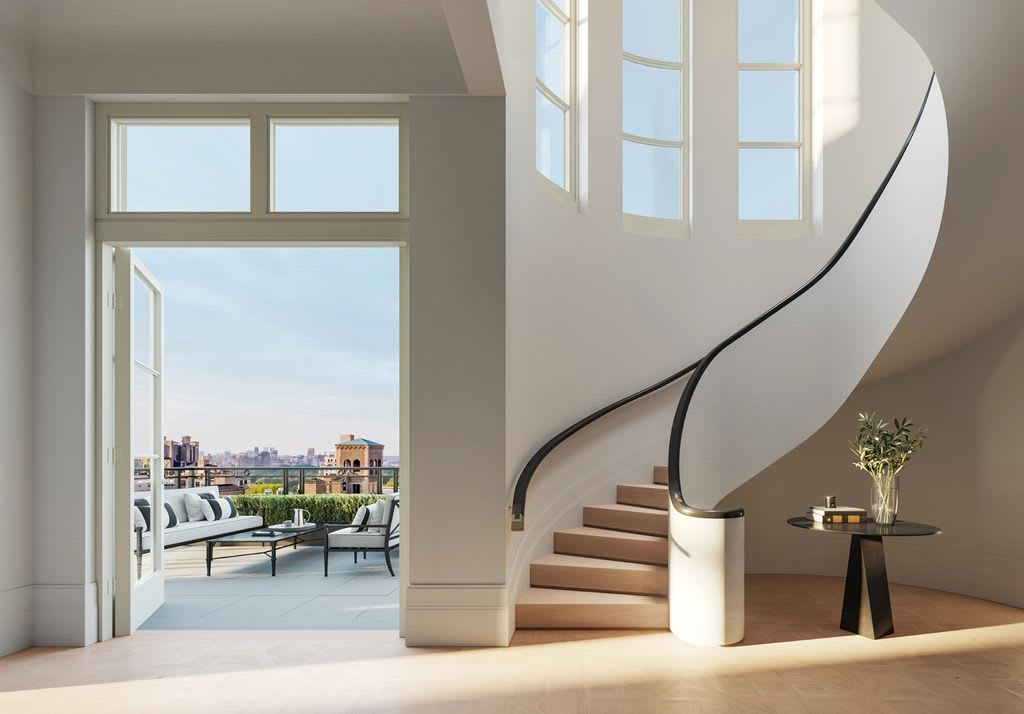 Developed by Naftali Group, The Bellemont comes in hot on the heels and just up the street from The Benson (see above). Its classically inspired design by Robert A.M. Stern Architects features a limestone facade and dramatically scaled windows that allow for incredible natural light in the grandly proportioned units. Amenities include a sophisticated attended lobby, a holistic fitness center, a regulation squash court, a state-of-the-art screening room, a well-thought children's playroom, and a rooftop terrace with spectacular views of Central Park. Closings are expected to commence at the end of 2022.
109 E. 79th Street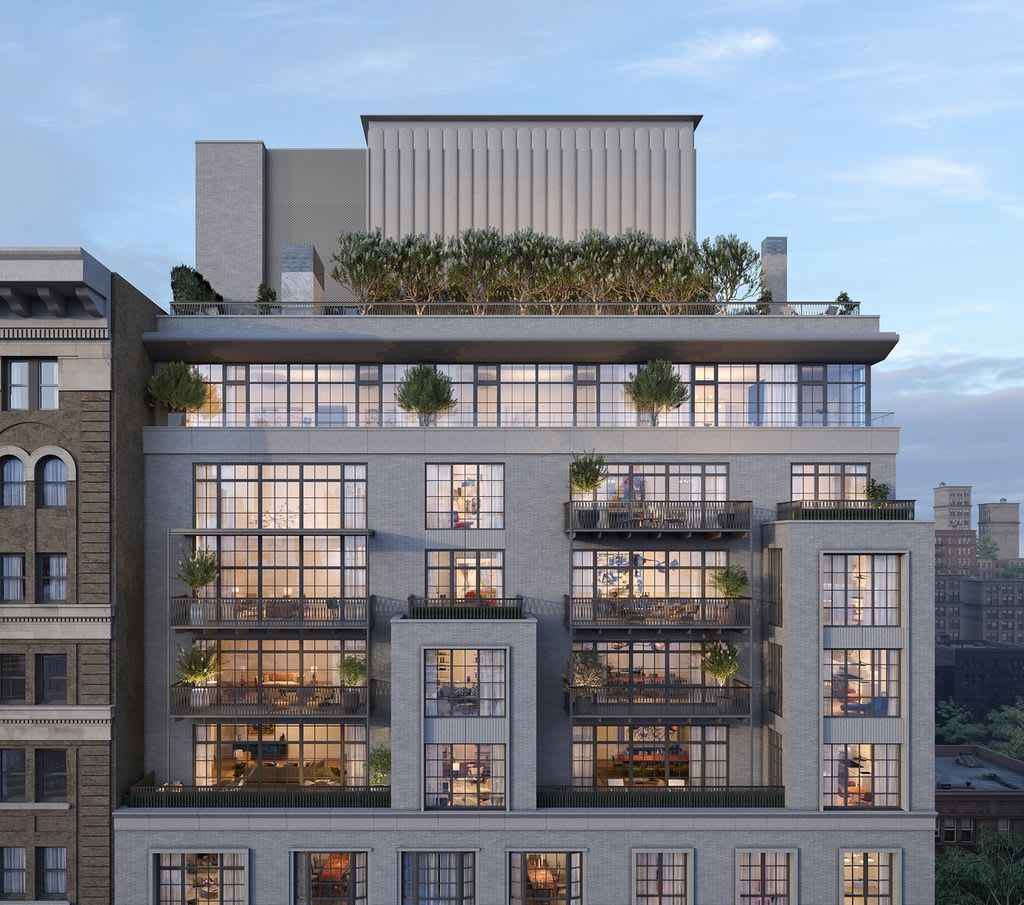 Developed by Legion Investment Group | Design by Steven Harris Architects
Completion estimated for 2022
109 East 79th Street combines Art Deco, Mid-Century, and Bauhaus influences for a design all its own. All two- through five-bedroom units have grand proportions, and select units feature sunken living rooms, free-standing tubs in the primary suites, and private outdoor space. Amenities include a double-height lobby, lounge, landscaped garden with sculptural water feature, library, fitness center curated by The Wright Fit, international squash/sports court with retractable basketball hoop, lounge, screening room, golf simulator, dog grooming room, and spa with treatment rooms, sauna, steam room, and hair salon. Occupancy is estimated for summer 2022.
1228 Madison Avenue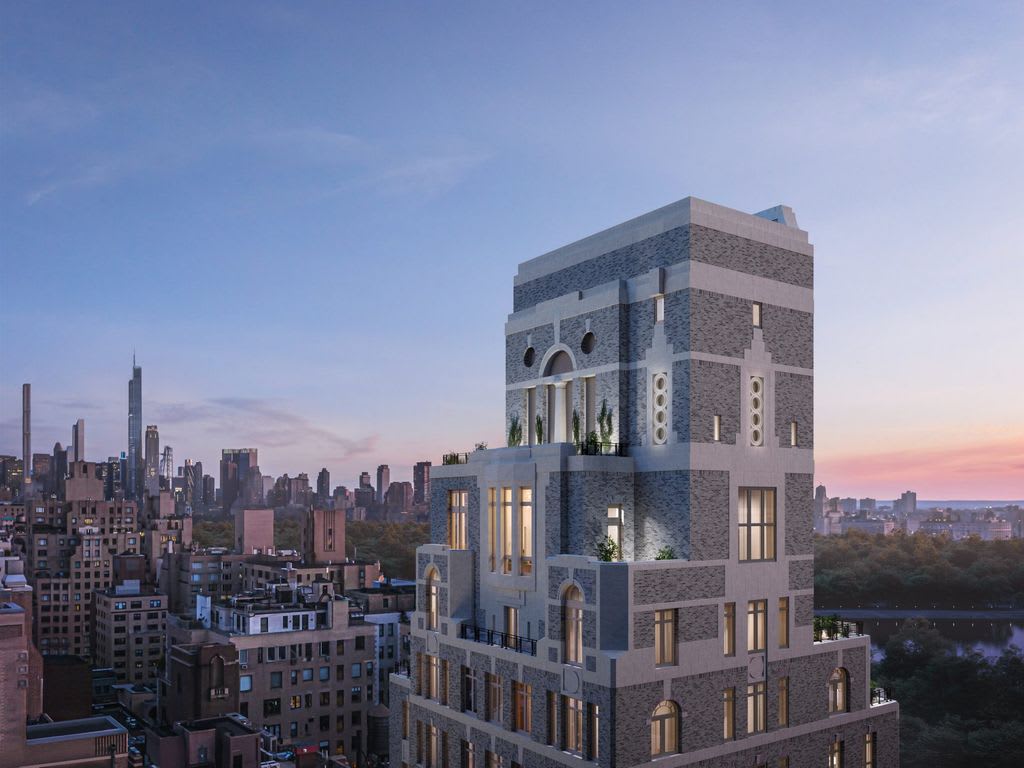 Developed by CBSK Ironstate | Design by Robert A.M. Stern Architects
Completed in 2021
Paul H. Whelan, Partner at Robert A.M. Stern Architects, describes 1228 Madison Avenue as "a building with personality all its own, but one that grows out of the traditions of the Upper East Side and the eclectic architectural spirit of Carnegie Hill." The crown of the building is home to a common roof terrace with panoramic Central Park and skyline views, and additional amenities at this "co-op with condo rules" include a fitness center, package room, private storage, bike storage, and full-time doorman and concierge service. Occupancy is estimated for early 2022.
180 E. 88th Street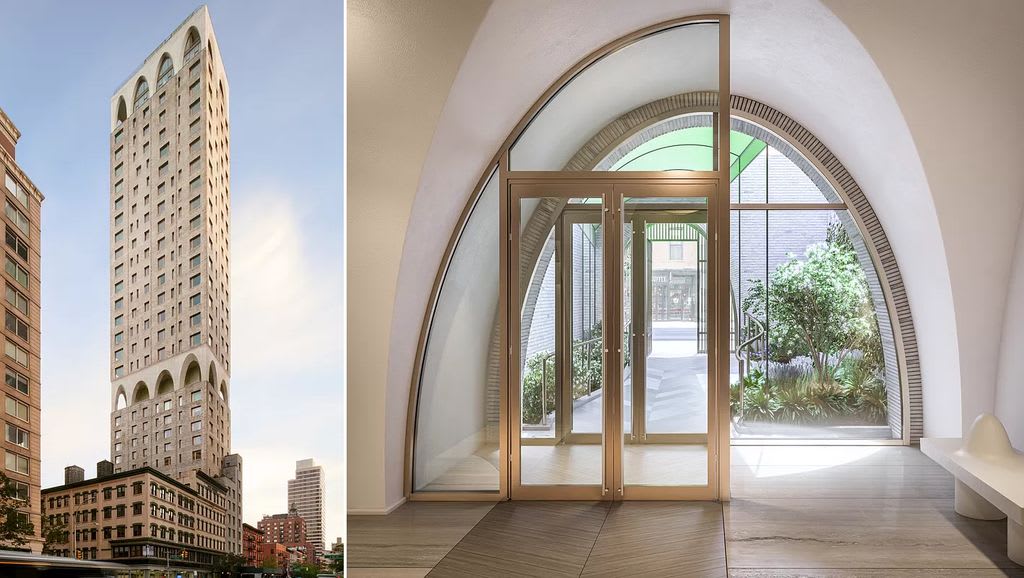 Developed and designed by DDG
Completed in 2019
The 524-foot skyscraper at 180 East 88th Street boasts fine features such as a façade clad in custom Danish Kolumba brick, a vaulted lobby, a fitness center with a basketball half-court. Full- and half-floor apartments boast 14-foot ceilings, and an arched penthouse opens up to a terrace with views of Central Park, the East River, and the Midtown skyline. It is down the street from the
92nd Street Y
, which is hosting a programming initiative in the building.
40 East End Avenue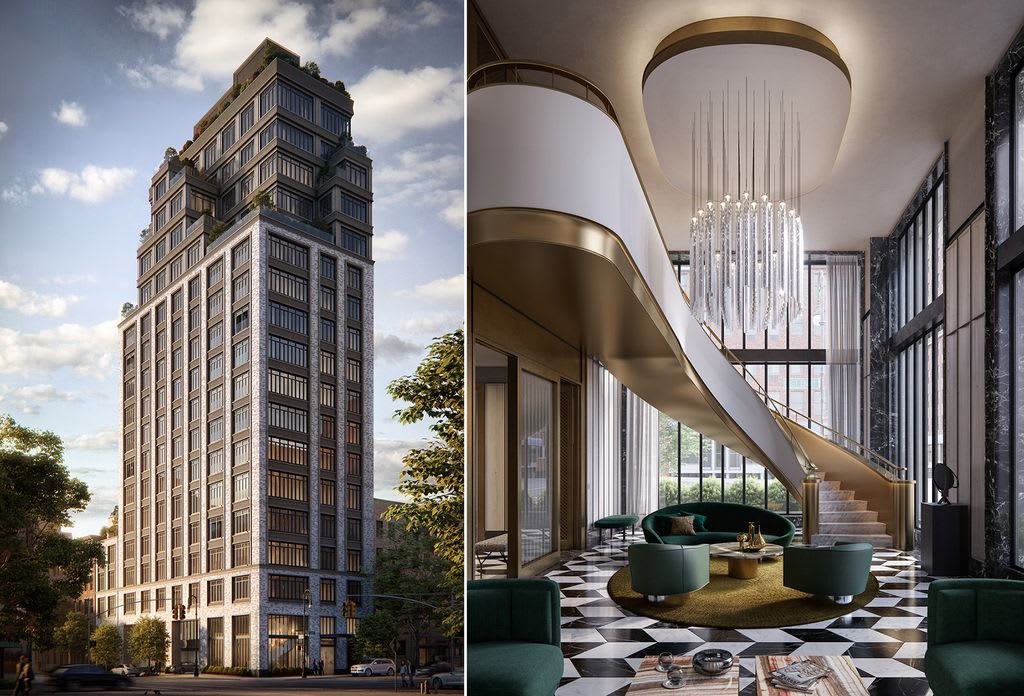 Developed by Lightstone | Design by Gerner Kronick + Valcarel
Completed in 2017
40 East End Avenue, which rises in the quiet eastern corner of Yorkville, supplies dignified luxury with its tradition-minded design. Upper floors recede in stepped terraces to a landscaped roof deck. Floor-to-ceiling windows, elegantly styled in vertical frames and transoms, look out to the East River. The spectacular penthouse sports a double-height foyer with a bronze-trimmed staircase and a massive chandelier. A private porte cochere allows for discreet arrival, and amenities like a fitness center, lounge, children's playroom, game room, and library offer numerous comforts and pleasures under one roof.
Which of these pique your interest the most? Let us set up a tour for you by emailing
[email protected]
.
SHARE THIS STORY