Your new season restart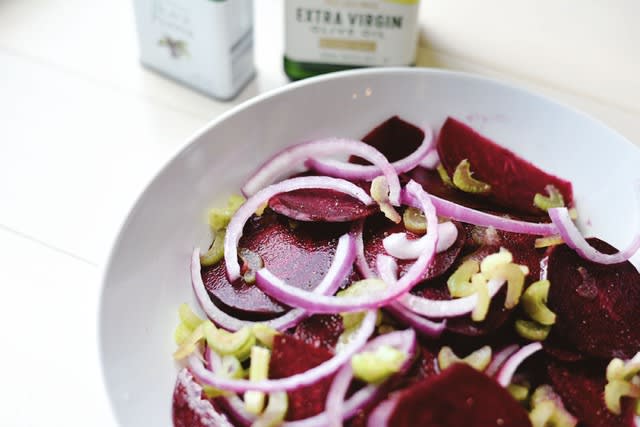 This month, I had the great pleasure of interviewing my dear friend and wellness guru, Paola Atlason who I met at Tracy Anderson Method 13 years ago. I'm so excited to have seen her vision grow and am so proud of how she's impacting the wellness community. Through her own personal experiences and through trial and error, she has been able to create her own wellness method, "The Journey," which approaches eating in a customized way.
As she states, The Journey is a return to simplicity. The best solution is often – if not always – the simplest one.
"Quiet the noise, return to basics and you'll find your answers. That is what I teach."
- Paola Atson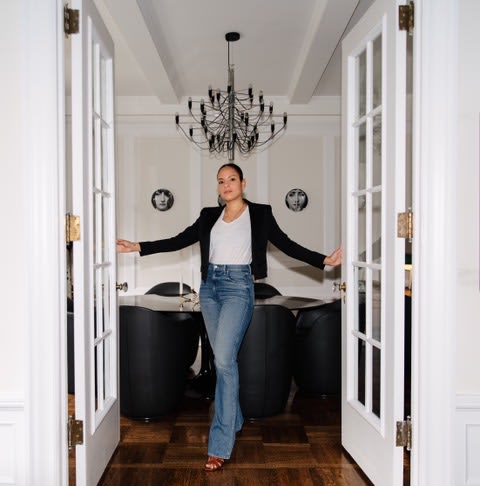 Can you describe to us what "The Journey" is and how it differs from other programs on the market?
"The Journey" is a return to simplicity. The best solution is often – if not always – the simplest one. Everyone is trying to sell us something, and in order to convince us the narrative has to become very confusing. Nothing worth having is "quick", especially in regards to our health. Quiet the noise, return to basics and you'll find your answers. That is what I teach.
What has your wellness journey been like and how has it brought you to where you are today?
I was born and raised in the Dominican Republic, and came to New York at 21 to pursue a career in Art and Design. From day one my food story was a very confusing and twisted one, as a young immigrant woman in huge new city, thrown into hustle culture not knowing yet what to expect. 20 years into a fast paced, travel filled lifestyle with 2 little ones at home to take care of, my body, mind and soul hit the wall.
In seeking to "fix" myself I left my career as a Fashion Executive and became a Certified Holistic Nutritionist, and have since dedicated my life to sharing what I've learned in hopes to help others experiencing burn out. I've tried every diet, workout, pill and powder and none of it worked. Before developing my method, "The Journey", I was spending all of my timed hard earned money on temporary fixes.
What are your thoughts on exercise vs. diet for weight loss?
Food is fuel to every cell, it can build or break you down. You have 21 meals in one week (when you eat my "Ideal Plate" way), that's 21 opportunities to support or deplete your body, your mind being part of it. Compare that to 5-7 workouts and the math is clear. Don't get me wrong, movement is medicine and exercise is great for physical and metal health, but you can't out-exercise a poor diet either.
What do you think is a commonly made mistake when trying to lose weight?
Not shifting your mindset. If you're not open to change nothing will work, you can only help yourself if you're ready for it. And on a practical note skipping meals is actually counterproductive, that's telling your body it can run on dry fumes. Eat please.
What does a typical day of eating/working out look like for you?
I wake up at 6am and immediately sit up in bed to meditate, followed by a few minutes of breath work and journaling, this sets the tone for my day. After getting the family ready and having my Goddess Smoothie for breakfast (see recipe below) I practice some sort of movement, these days it's Tracy Anderson Method, running or pilates. By lunch time I put together my Ideal Plate before diving into work for the rest of the day. I have a 2nd meditation late afternoon before drifting back to mom-mode and getting dinner ready for the family. In bed by 10pm, feet up the wall and a good book help me drift off to sleep.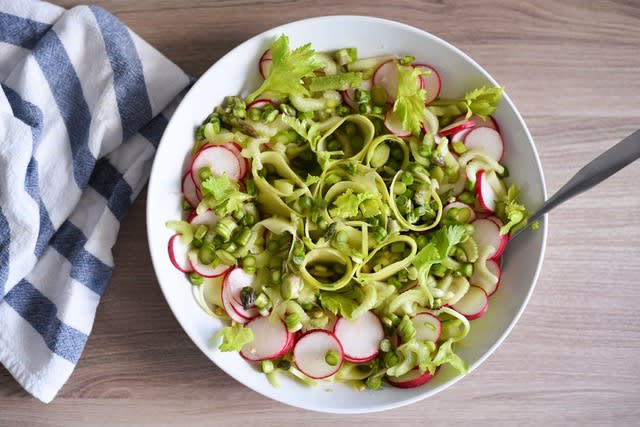 Paola's Weekly Shopping List

Fresh veggies and fruit: One head of kale or chard, a head of green leaf or Boston lettuce, 3-4 zucchini, one bunch of asparagus, a fennel bulb, a head of celery, a bunch of carrots, a few shallots and a head of garlic, 1-2 cucumbers, a bunch of scallions, one kabocha or spaghetti squash, strawberries and blueberries.
Protein: A pack of chicken thighs or a whole chicken, ground turkey, lamb sausages, eggs, tinned tuna or mackerel in olive oil, and frozen shrimp.

Fats: good olive oil for cooking and finishing, ghee, raw cashews, raw Brazil nuts, and flax seeds.

Pantry and Specialty Items: Stevia, maple syrup, quinoa, sea salt, fresh pepper, champagne vinegar, good mustard, and Burlap and Barrel smoked paprika, bay leaves and cinnamon. Dark Horse Organic smoked Tamari, and CAP Beauty matcha, togarashi and coconut butter.
For a full breakdown of "why" these foods, a complete list of all Ideal Plate essential items, how to build your meal, and why this foundation is your key to long lasting results, you can purchase Paola's "Idea Plate Pantry" workshop, with 3 hours of video instructions, Q+A, and a detailed PDF guide.
And lastly any wise words of advice? How can my readers find you and join one of your courses?
Devote yourself to knowing YOU deeply. The small moments you spend daily in listening, the stronger that bond becomes. You matter the most to you, not to anyone else. Honor and believe that. If you need support in finding that voice I will gladly hold that space for you.
SHARE THIS STORY