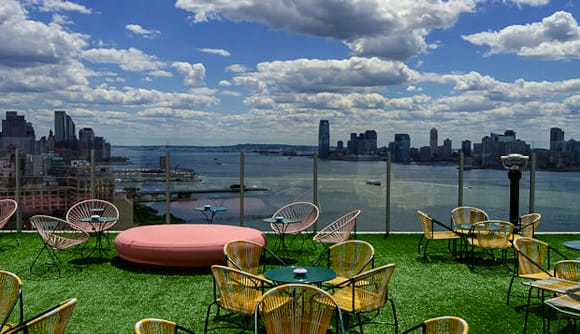 Having a few cocktails with friends is fun, but when the scenery is spectacular, it is priceless. With the warm weather finally rolling in, we know you're looking to find the best rooftop bars. A breathtaking view of the Manhattan skyline, trendy settings and luscious libations are only some of the perks you'll find while you're on top of the world. And since it's New York we're talking about, all of these venues have mindboggling views, too, allowing visitors to scope out the city from a whole new angle.
I've put together a list of the hottest rooftop bars in the city for views, drinks and fun! Thanks to Refinery29 and Curbed for the suggestions.


Gallow Green
A lush, exciting garden from the creative gurus behind long-running theatrical installation "Sleep No More" is everything you'd expect it to be: curious, unbelievably special, and magical in a way that most open-air rooftops just aren't. The Chelsea expanse carries a certain hushed secrecy only a team like this could pull off, and ever-present ivy, dark wood, and wispy lace give the spot an Anthropologie-meets-Selby-backyard vibe that carries straight into the menu. Think old-timey punch bowls, a quiet demeanor perfect for cozying up to someone new, and an intriguing waitstaff that'll have you casually wondering how quickly you can see the show once again. Located in the McKittrick Hotel.

Le Bain at The Standard
It doesn't get trendier than Le Bain at The Standard, High Line. Perch in one of the yellow chairs set atop the astroturf and take in the stellar views from the far West Side. In the summer, a plunge pool and creperie ratchet the general discotheque ambiance up a notch.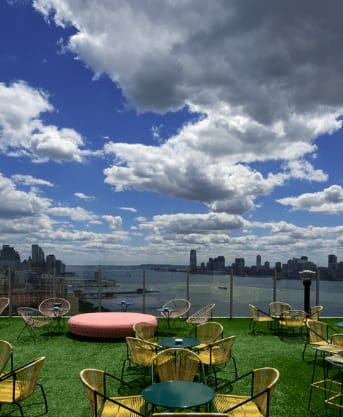 Tequila Park
For Hudson Hotel to name their newly re-conceived outdoor deck with such a bold moniker, they'd have to channel the perfect, classed-up Spring Break-meets-New-York-summer vibe — and man, did they do it well. The fresh-fruit margaritas and delicious tacos are worth making a visit alone, but what we love most about this spot is that it magically morphed from a beloved ski lodge into an outdoor expanse packed with games and foosball tables. Their blissed-out vibe won't make that stack of reports on your desk disappear, but hands down, it'll make every visit feel like a laid-back Friday.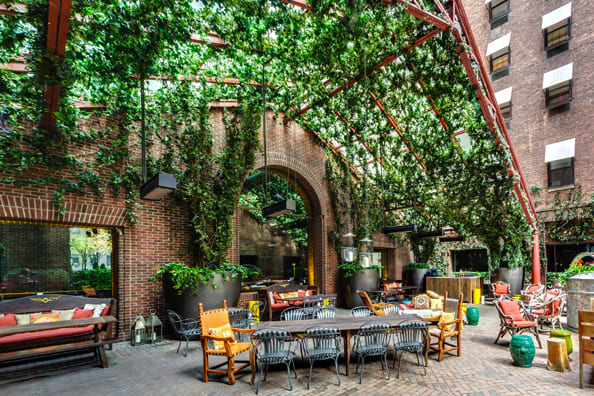 Soaked at The Mondrian
At the nexus of Chinatown and SoHo, the Mondrian has Mister H (a lounge) and Isola (a trattoria and crudo bar) on the ground level. Soaked is 26 flights up, in a space designed as a presidential suite. The wraparound deck offers spectacular views in every direction. But with artificial turf, potted reeds and tiny lights strung overhead, the ambience is Montauk-esque, as if guests are overlooking Fort Pond instead of a sliver of the East River.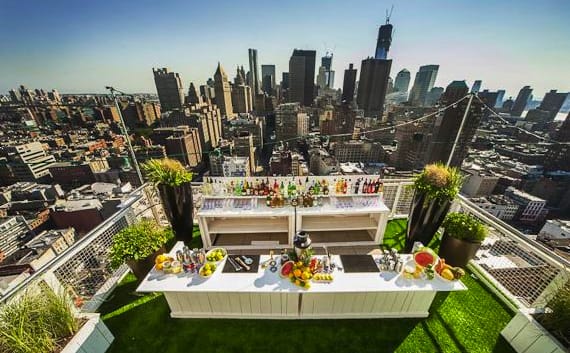 Empire Hotel Rooftop
If you're about day-to-night drinks more than day-to-night dressing, this is the quintessential spot for you. As good for a first date as it is for power drinks while the day closes, the Empire Hotel's lush, grassy expanse is perfect for taking in West Side sights while imbibing one of their elegant boozy creations. Listen to the laid-back stylings of in-house jazz performers — or tune out the rest of the world with a perfect view of the sunset — and enjoy a refined, relaxing finish to the afternoon…or a prime start to a long evening.




La Birreria
Take an elevator from inside Eataly to this gorgeous, calming upstairs, and get ready to feast on a selection of bites and beers like you've never had before. Less of a rooftop hang and more of a beer pairing-minded restaurant, La Birreria is the ultimate spot for hops-loving foodies — or anyone who typically inspects behind-the-bar taps closely before ordering a pint. Best part of all? Even if the weather isn't agreeing with your wish to drink outside, roof paneling can be quickly set into place, meaning even Mother Nature can't kill your vibe.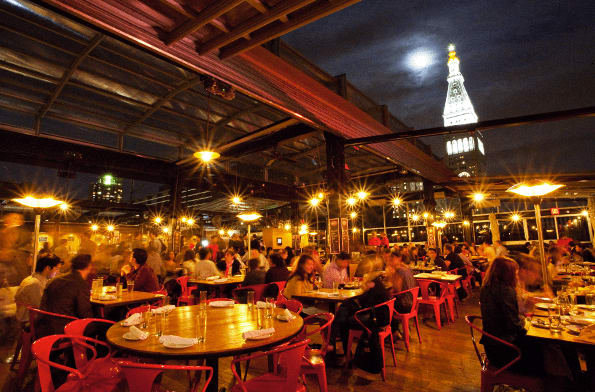 The Nomad
The Rooftop at The NoMad is available as a private event space, both indoor and outdoor. Located above the 12th story, the NoMad Rooftop features both indoor and outdoor spaces that boast sweeping New York views of the iconic skyscrapers of Manhattan. Open air and lush landscaping provide a peaceful retreat from the hustle and bustle of Broadway.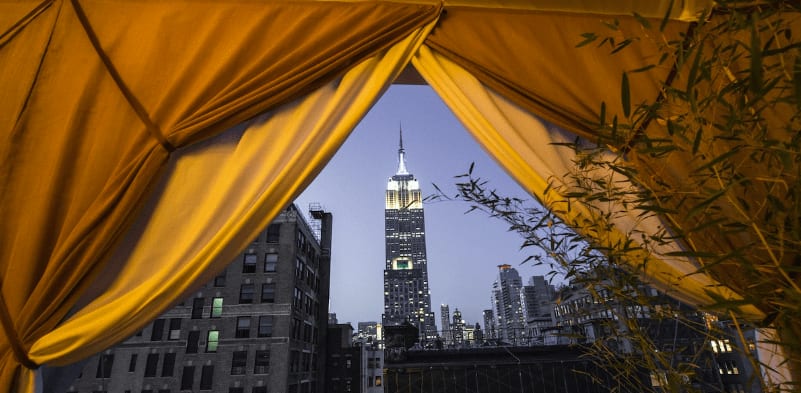 Gramercy Park Hotel
Situated on the Hotel's 18th floor, the Gramercy Terrace offers incomparable views of the Manhattan skyline and serves as a garden oasis from the busy streets of New York City. This premier Event Space is open and airy, and with a fully weatherized retractable roof, it's the perfect luxurious setting for Luncheons, Business Meetings, Cocktail Parties, Weddings, and other special occasions – all year long. The Terrace is composed of interior salons, filled with 20th century masterpieces from Damien Hirst and Andy Warhol, and lush exterior gardens that wrap around the rooftop. The multiple areas for entertaining allow for a variety of Event set-ups ideal for both large parties and more intimate Events.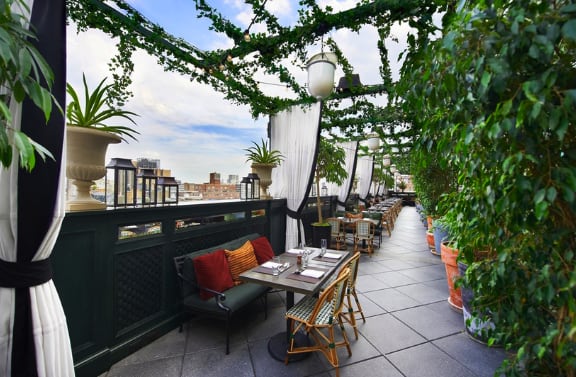 Viceroy Hotel
Capping the top of Viceroy New York, Gerber Group's The Roof is an alluring lounge and outdoor terrace that offers guests a perch to take in the city's energy and soaring views of Central Park. Fashioned by renowned design firm Roman and Williams, the space evokes the aesthetic of a luxury airliner complete with ipe floors, brass details, custom walnut-and-leather sofas and thoughtfully curated images of sky, sea and clouds by famed photographer Dalton Portella. The menu features an expansive collection of small-batch spirits, regionally brewed craft beers, global wine offerings and a rotating selection of Gerber Group's classic and modern cocktails that highlight market fresh ingredients, complemented by small plates and a signature burger.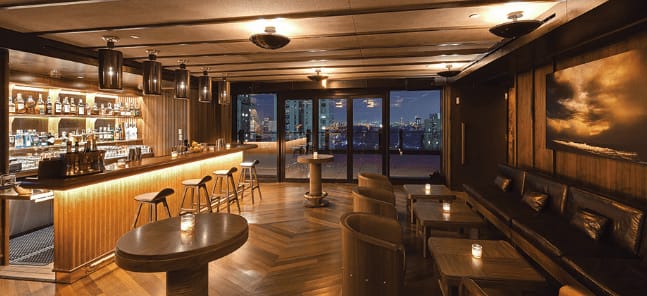 SHARE THIS STORY